Easy access: access panels allow for quick and convenient access to essential building systems such as plumbing, electrical, HVAC, and fire suppression without having to damage walls or ceilings. Access panels offer increased safety for building occupants by concealing hazardous or potentially dangerous elements within building systems.
Durability and quality: we use high-quality materials and manufacturing processes to ensure that our access panels are long-lasting and can withstand regular use! Our access panels can be customized to fit specific dimensions and requirements, providing a perfect fit for your needs.
Versatility: solid metal access panels are suitable for a wide range of applications, including residential, commercial, industrial, and institutional buildings. Our access panels have a longer lifespan compared to other materials, meaning they will need to be replaced less frequently, resulting in cost savings in the long run.
Low maintenance: metal access panels require very little maintenance, can be cleaned easily, and won't rot or degrade like other materials. Metal access panels are resistant to rust and corrosion, which is important in settings where the panel may be exposed to moisture or humidity.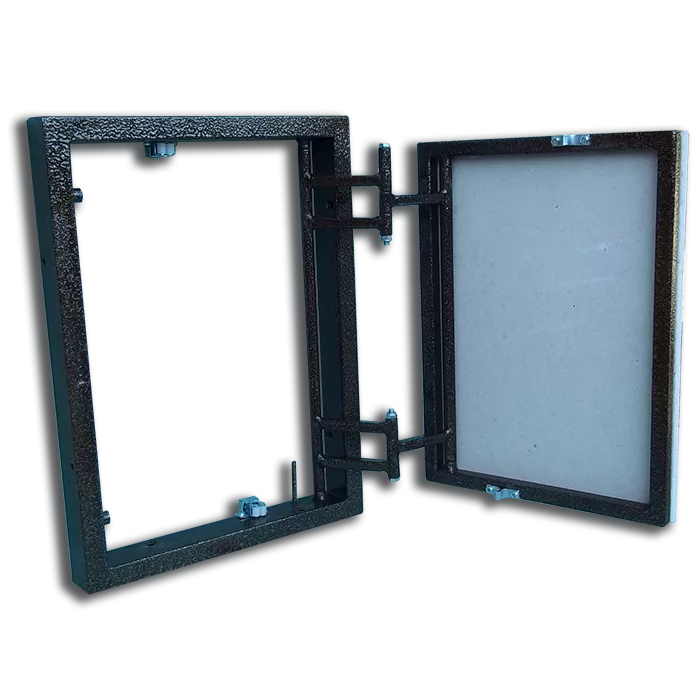 Push and open access panels
Installed in kitchens, bathrooms, and toilets. Designed for hidden and, at the same time, convenient access to faucets, water meters, filters, and other plumbing equipment.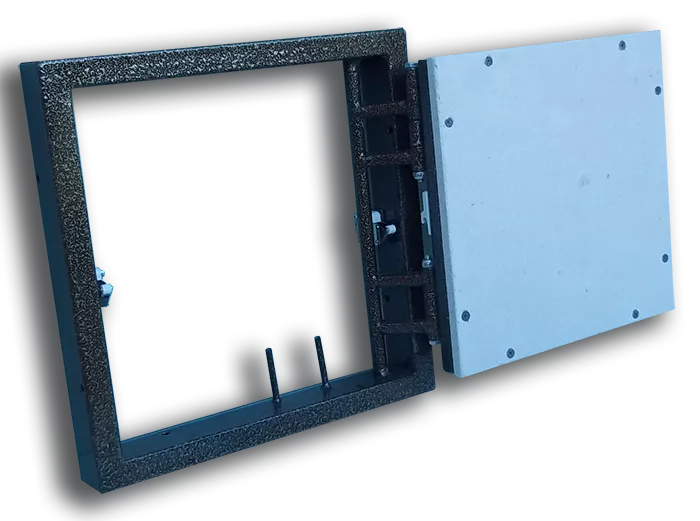 Push and slide access panels
Perfect for hard-to-access installation places for all types of tiles/mosaics.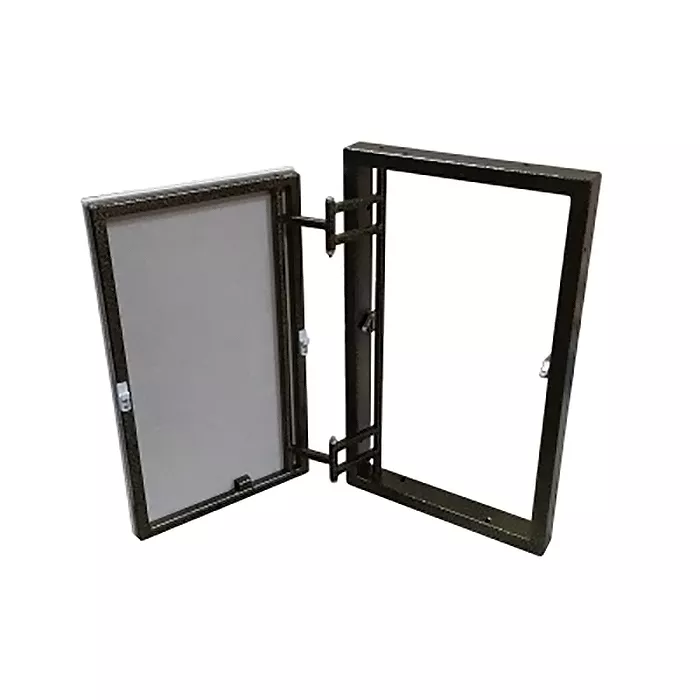 Suction cup access panels
Panels are opened with the help of a suction cup. Available with a variety of opening principles - any of the three types of panels in this series.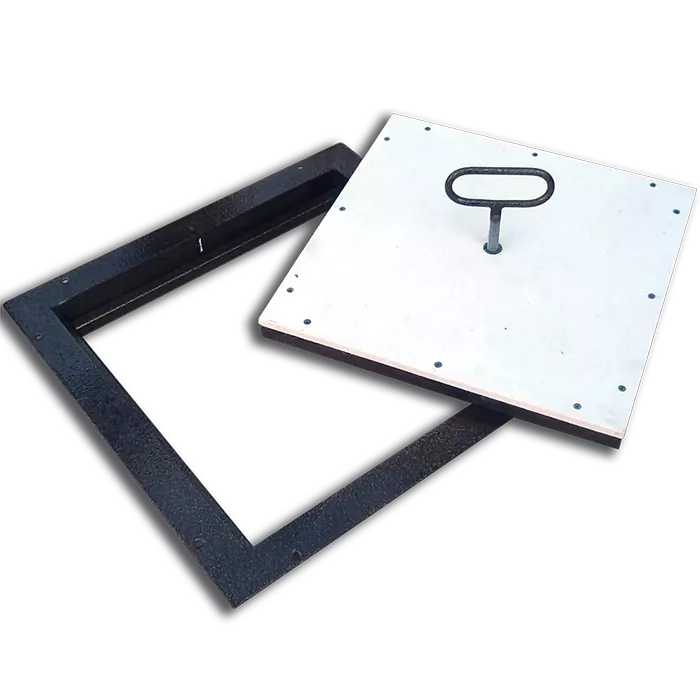 Floor access panels with a removable cover
A panel without hinges, with a removable cover. Will create a layer of heat and sound insulation. Complete with a rubber seal that protect against drafts and moisture.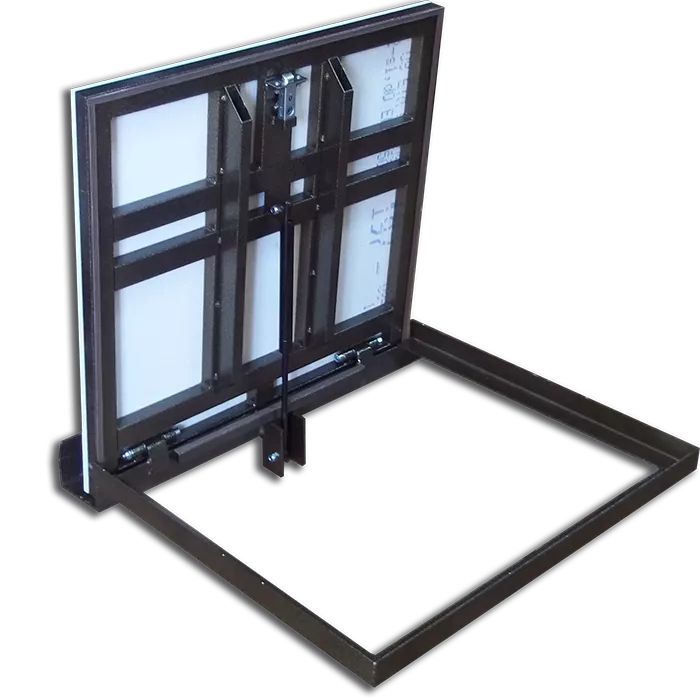 Floor access with a gas strut (lightweight)
Lightweight door without insulation. Designed for indoor installation.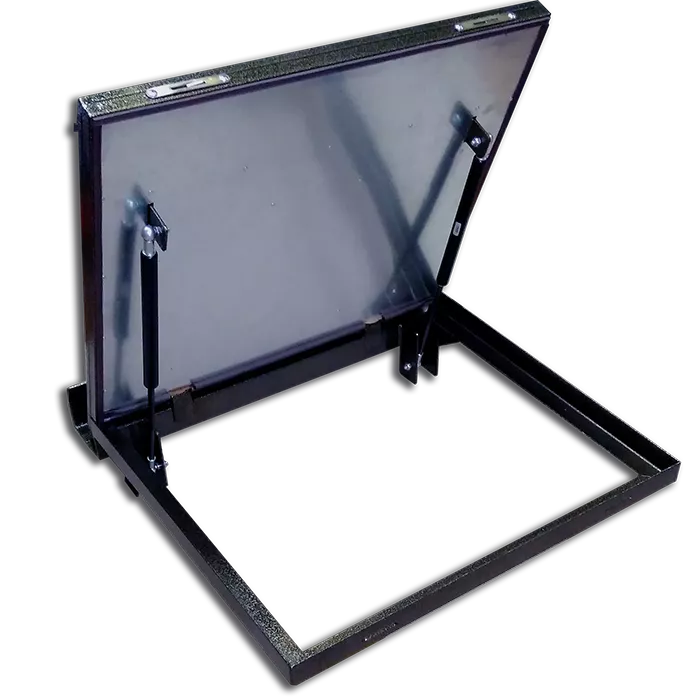 Floor access with gas struts (insulated)
Insulated panels for indoor use. Gas struts force can be adjusted depending on the tiles.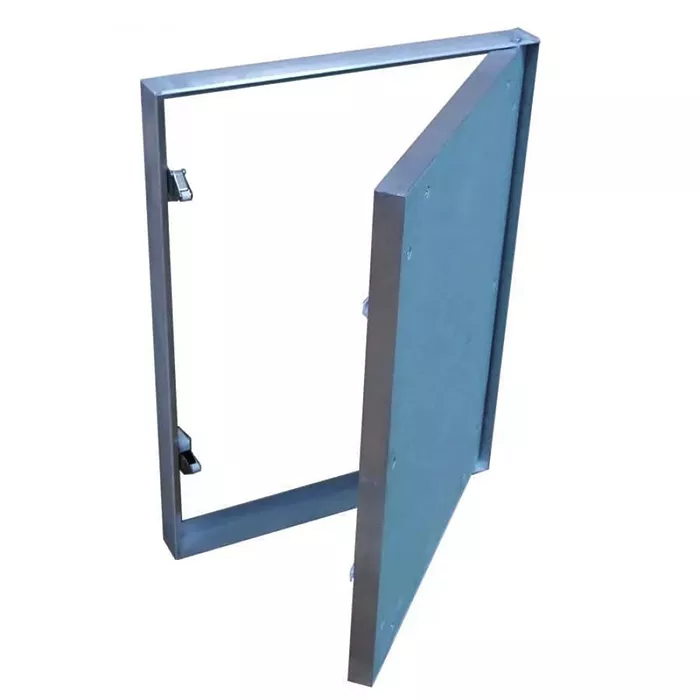 Access panels mounted on a metal profile
Lightweight aluminum panels can be used for painting, plastering, or wallpaper.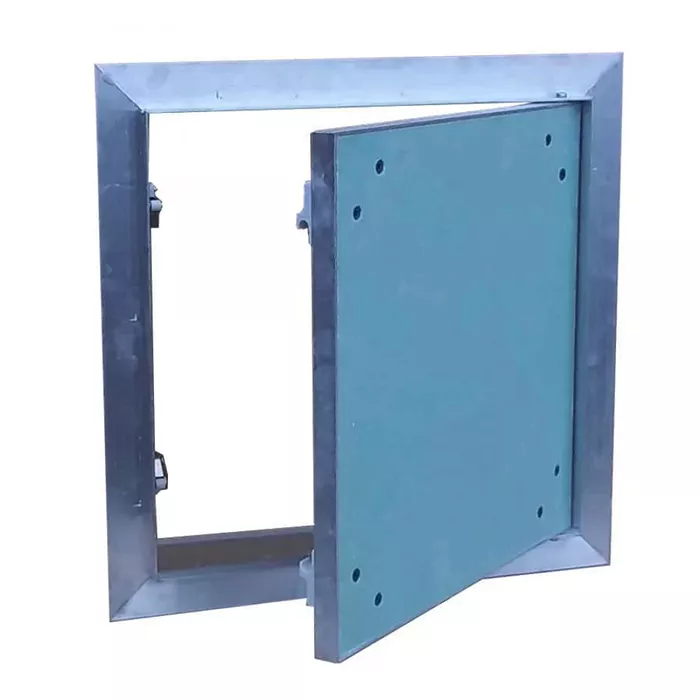 Used for suspended ceilings and other drywall surfaces and is installed without a metal profile framing.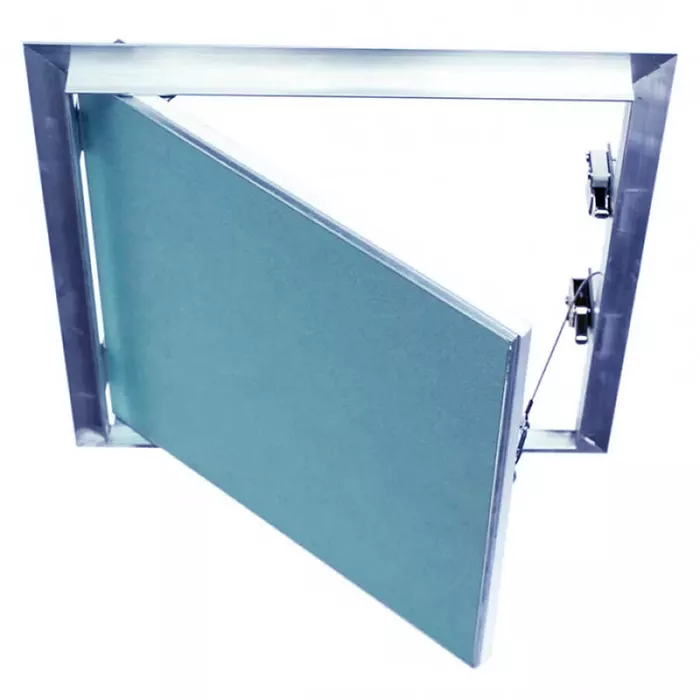 Ceiling access panels (reinforced, two-door etc.)
Large-size ceiling panels made with a reinforced frame.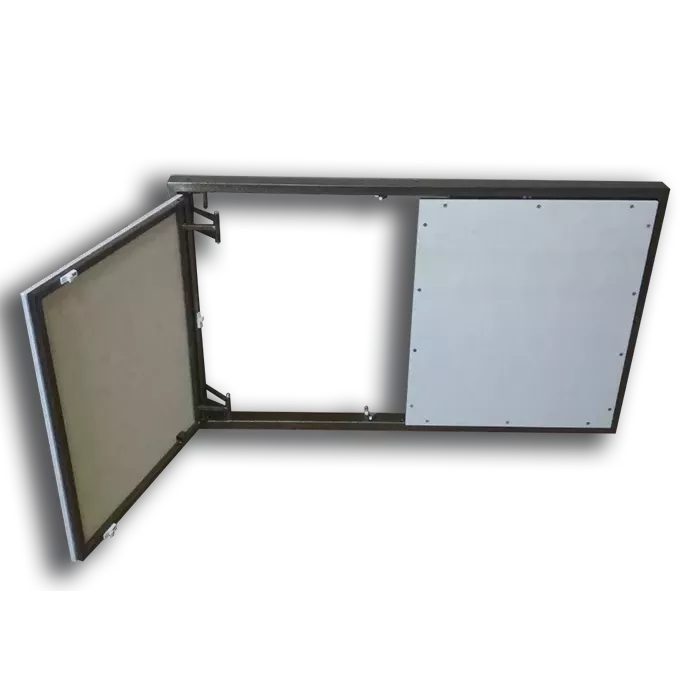 Two-door panels are used for all types of mosaics, ceramic tiles, and tiles made of natural or artificial stone.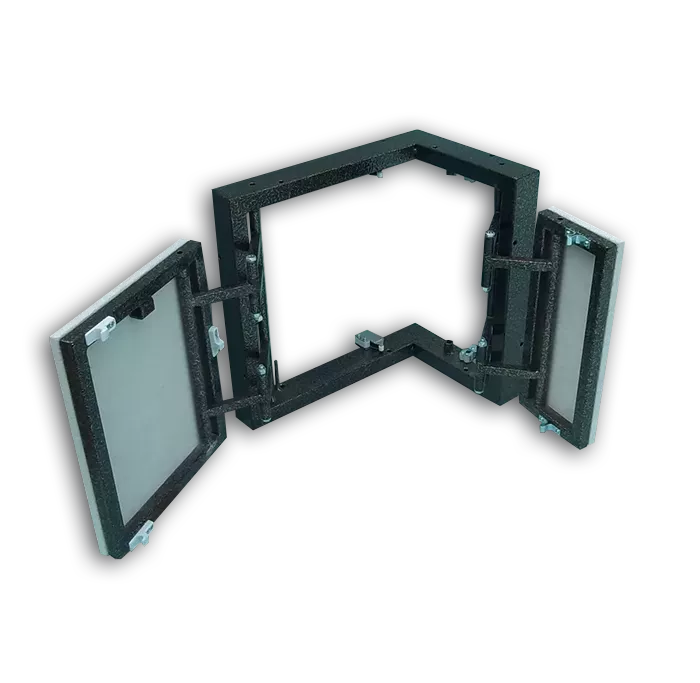 Two-door corner access panels
Panel is designed for revision openings in the outer corners of columns, niches, and other similar protruding interior elements and structures.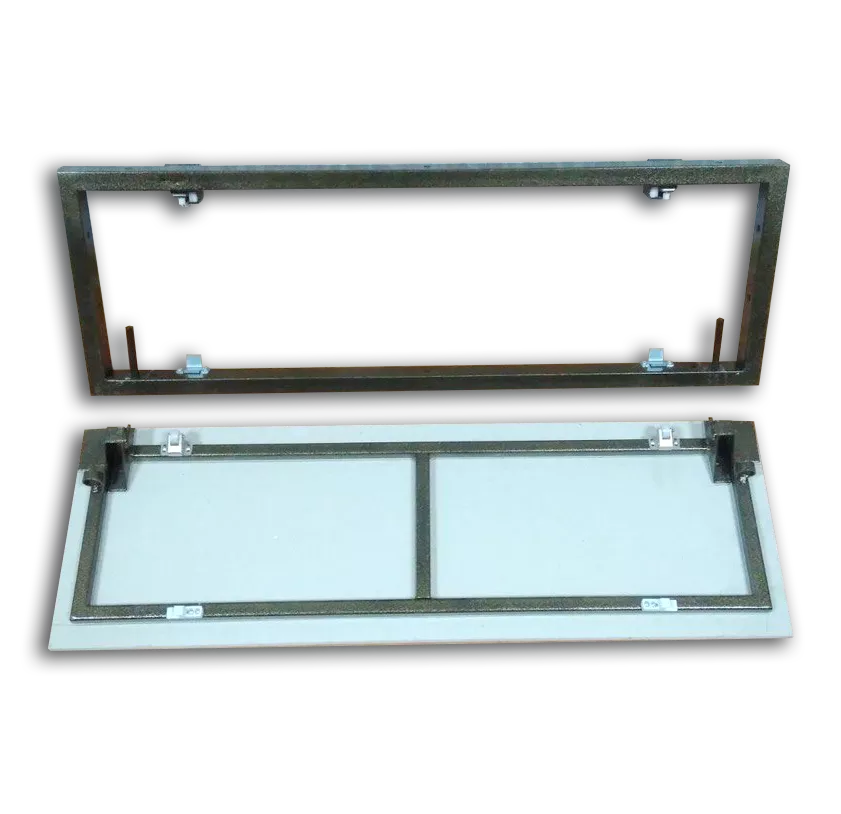 Panels are recommended for large wall tiles made of natural stone, porcelain stoneware or other materials. Made to order according to your measurements.
Why buy an access panel for your household?

Access panels are used to conceal unsightly or disruptive elements (mechanical systems, electrical wiring, plumbing etc.) that may be located in the areas that are best concealed, such as behind walls or under floors. This can help maintain the aesthetic of your home and ensure that the systems are out of sight and out of mind.

Access panels are often used to provide access to fire suppression systems, electrical panels, and other safety-related systems. By providing easy access to these systems, you can ensure their quick and easily maintenance and, as a result, their proper functioning in case of emergency.

Access panels are a more cost-effective solution than cutting into walls or floors to access systems and components. Access panels can be easy removed and replaced as needed without causing any significant damage.
Unlock the potential of your space. Buy access panel today!
Access panels, also known as access doors, are a convenient and practical solution for providing easy access to plumbing, electrical, and HVAC systems behind walls and ceilings. They come in a variety of designs to match the surrounding wall or ceiling, making them virtually invisible. They are an essential component of any building, whether commercial or residential, and they play a vital role in maintaining the safety and functionality of the building.
Drywall access panels are one of the most popular types of access panels and for good reason. They are an excellent option for hiding unsightly wires and pipes and still allowing easy access for maintenance and repairs. 
Ceiling access panels are also a great choice for commercial and residential buildings. They can be used to access air ducts, fire sprinklers, and other systems that are located above the ceiling. They are also easy to install and can be secured in place with screws or adhesive.
Plumbing access panels are also very helpful in providing access to pipes and valves in walls and floors. These panels are especially useful in bathrooms and kitchens where plumbing systems are located. They can be produced to fit the exact size and shape of the opening. They are also easy to install and can be secured in place with screws or adhesive.
In summary, access panels, such as access panel for sheetrock, plumbing access panels, and ceiling access panels, are a great way to provide easy access to systems behind walls and ceilings while maintaining a clean and polished look. They are easy to install and are a great solution for both commercial and residential buildings. They play a crucial role in ensuring the safety and functionality of a building and are an essential component of any building's maintenance plan.